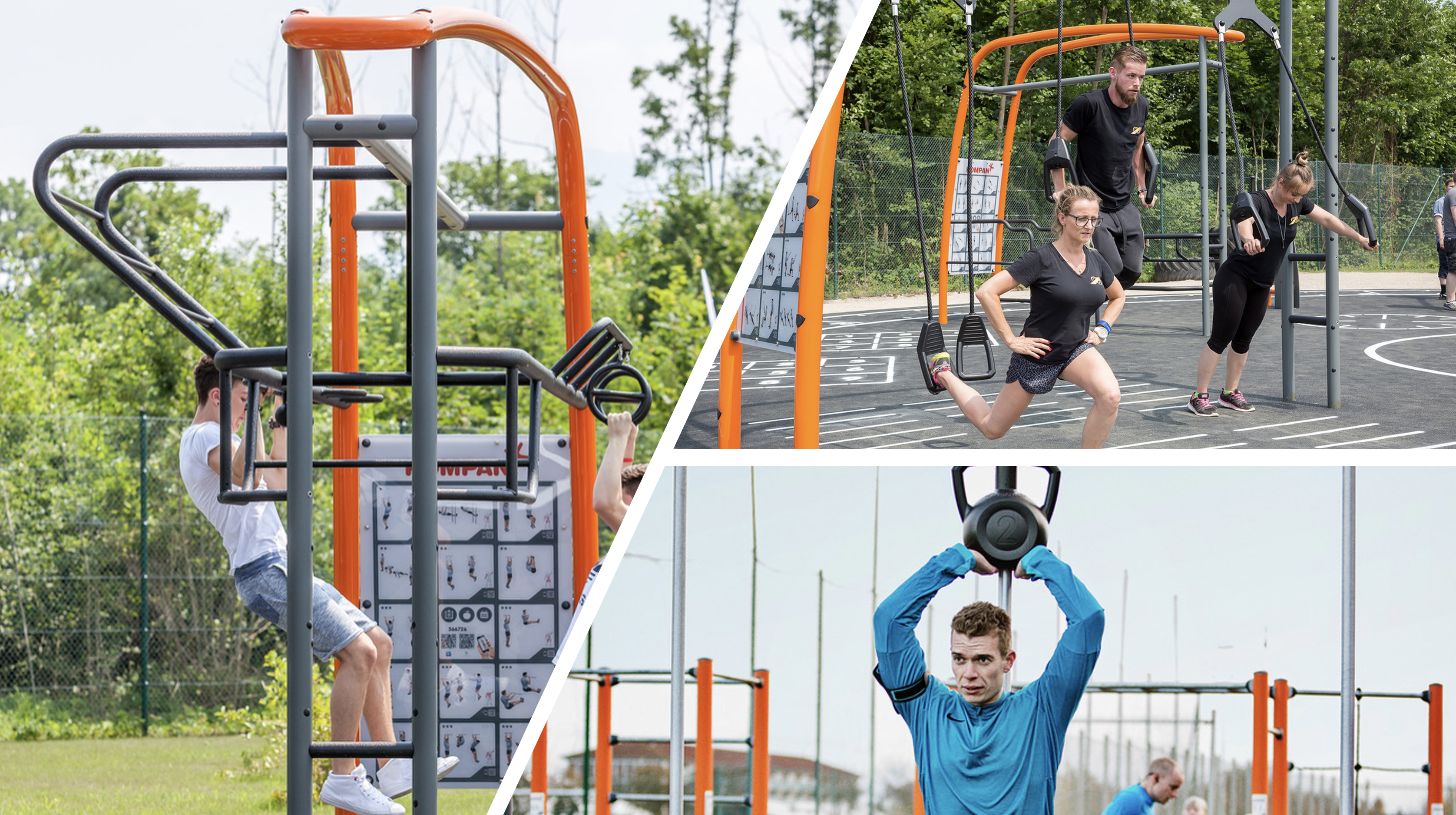 FEELING IT | FEELING FIT
Play should not be exclusive to children, especially outdoor play. Teens, adults and seniors need outdoor play spaces too. This is why Highwire offers the best outdoor sports and fitness equipment. Designed for people of all ages and abilities the outdoor sports and fitness equipment seen here offers a unique outdoor gym experience that can stand alone or accompany a more traditional playground equipment design.
Outdoors Sports and Fitness Equipment | ALL AGES | ALL ABILITIES
For busy parents, finding time to workout while also taking care of small children can be very difficult. These KOMPAN outdoor sports and fitness equipment products are a great addition to any playground because when installed strategically, parent's can workout while watching their children play on KOMPAN play structures.
Similar to the KOMPAN Play Institute, KOMPAN supports the KOMPAN Fitness Institute. It is a global group of fitness professionals whose knowledge and expertise inspire the groundbreaking outdoor fitness equipment seen here. The KOMPAN Fitness Institute assisted with the design of each piece of equipment. There are pieces for people with limited mobility, including arm bikes and balance support equipment. And there are pieces designed for  the most fit athlete, like the cross trainer bikes. Users can modify the resistance on many pieces to get a personalized work-out.
Additionally, all outdoor fitness products are supported by the KOMPAN Sport & Fitness app and optional trainer support – to make sure that motivation and retention is an integrated part of securing success. Several apps are available for download. The apps allow users to follow a work-out and the cross trainer fitness bikes allow users to work out with other users all over the world.
Each piece of equipment is meticulously designed for durability and functionality.  These outdoor fitness offerings are truly unique in their design and performance.
See a range of KOMPAN Fitness Equipment reference sites worldwide.
See how the technology can work with all devices for a truly personalized workout comparable to any expensive gym membership.
KOMPAN Outdoor Sports and Fitness Equipment
KOMPAN Fitness Equipment with touch screens and adjustable resistance for personalized workouts and all fitness levels. Every piece designed for performance and durability, in even the most punishing environments.
Stay Fit is a line of KOMPAN Outdoor Fitness Equipment designed for seniors to improve balance, mobility and overall health. See the pieces in action.